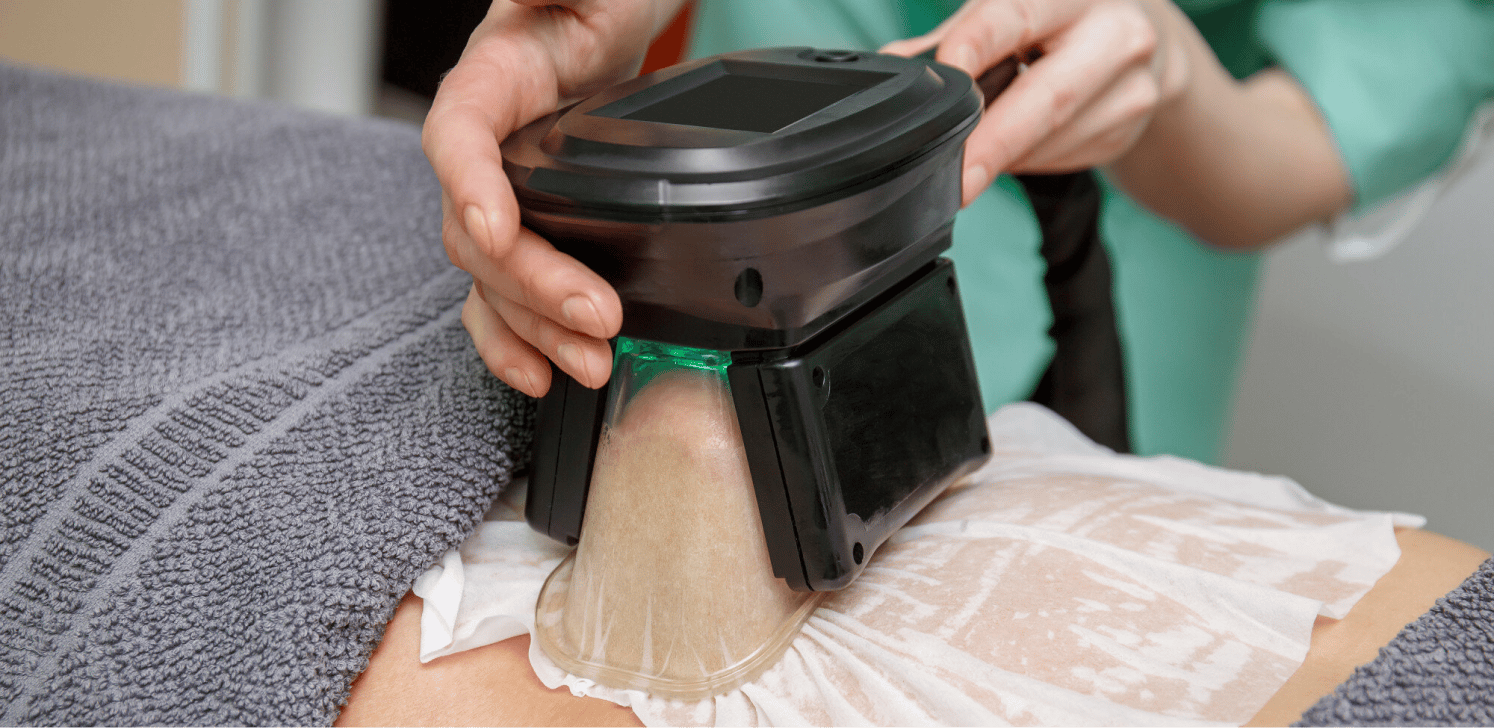 Coolsculpting and Kybella are both non-surgical treatments for fat loss and skin tightening. Both modalities permanently kill fat cells. But, what's the better choice for you?
Coolsculpting Has Less Downtime
Coolsculpting has less visible side effects than Kybella, which means no one will know that you had anything done when you leave your appointment. Kybella can result in bruising and swelling, which could delay your ability to go back to work right away.
So, if you have a demanding job or a family to take care of, Coolsculpting might be a better option for you.
Kybella also tends to have more painful side effects than Coolsculpting. After you are treated with Coolsculpting, the skin is red immediatly after which goes away completely within 30 minutes of your appointment. Kybella can cause significant swelling and pain, which can be very uncomfortable for many people and can last two to four weeks.
So, if you have a client-facing job, or a career that involves a lot of running around and physical activity, Coolsculpting may be a better option for you.
Coolsculpting Results are More Dramatic Than Kybella
The results with just one treatment of CoolSculpting are much more dramatic than one treatment of Kybella. 25% of the fat cells die off with one treatment of Coolsculpting, so you may only need one or two treatments to get the results you're looking for. Where as with Kybella, you may need four to six treatments.
Coolsculpting is much less painful than Kybella and is virtually painless. Additionally, you start to see results as soon as 4 weeks after your CoolSculpting treatment.
While both Coolsculpting and Kybella are effective and offer great long-term, permanent results, Coolsculpting is usually a better choice for people who want to see the results quickly.
Get More Bang For Your Buck With Coolsculpting
Not only do you see results from Coolsculpting quicker than Kybella, it's also cheaper as well. The average cost of Coolsculpting is around $1,481 per session, with the average per session cost being between $2000 and $4000.
Kybella costs between $1,200 to $1,800 per treatment, but since you'll require more treatments than you would need with Coolsculpting; it will cost you more in the end.
Coolsculpting is Better For Your Skin
While both Coolsculpting and Kybella are effective for fat reduction, there are significant benefits to Coolsculpting that may make it a better choice.
If you're looking to keep your skin looking young, Coolsculpting is a better option for you. CoolSculpting improves skin laxity and tightens the skin as the fat cells die. Where as with Kybella, once the fat cells die, you are left with lax skin.
Coolsculpting Is Better for Double Chins Than Kybella
Coolsculpting has special, smaller applicators for more specific parts of your body, like your face, allowing it to be more precise in its application.
Coolsculpting is also great for other parts of your body whereas Kybella is only FDA-approved to target double-chin fat.
Coolsculpting is FDA approved to treat the stomach, outer thighs, inner thighs, upper arms, inner arms, flanks, chin, and back. That means that Coolsculpting can be used to target fat in many different areas you may be feeling insecure about.
So, when you're choosing cosmetic treatments to target specific areas of your body that you feel uncomfortable with, Coolsculpting is your best bet.
Of course, like with any medical treatment, you should consult a doctor before getting Coolsculpting, Kybella, or any other cosmetic treatment. Your health and safety should always be your top concern.
Choose Coolsculpting for
Fat-Freezing Today
If you're in the Palm Beaches, Florida area, book an appointment for free consultation today.
Book Appointment