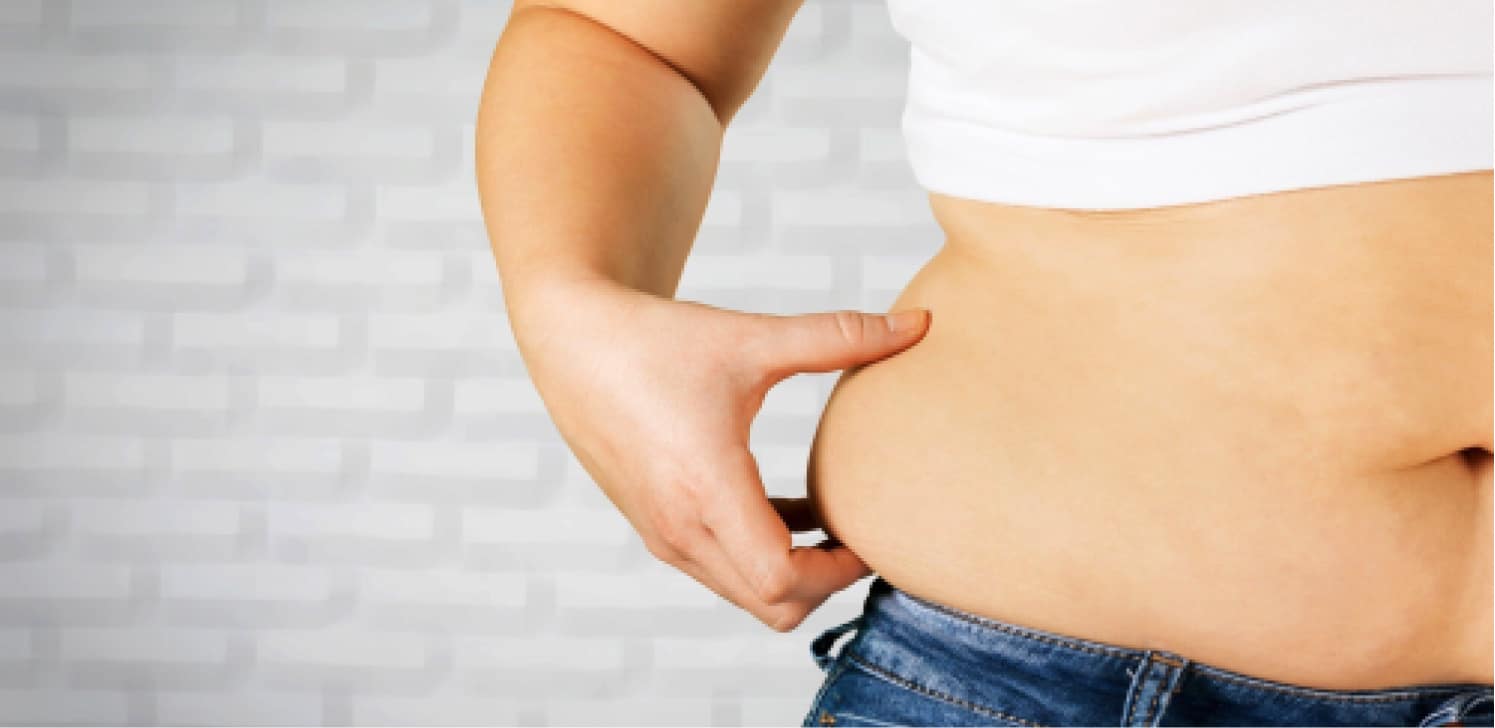 Everything is bigger in America. Our homes, our highways, our cars. And unfortunately, our bellies.
A 2014 study reported that 54% of U.S. adults, over half of the American population, have abdominal obesity.
Belly fat is not just a concern for aesthetic reasons. It poses pressing threats to a person's health. The bigger the belly, the more fat surrounding your internal organs, and the greater your risk of a severe medical problem.
While maintaining a healthy diet with regular exercise is the key to a healthy lifestyle, there are treatments available to help melt belly fat fast.
Let's explore why Americans have such a problem with abdominal fat and the top five ways to reduce fat cells around the belly.
Why Do We Have Belly Fat?
No one wants to look in the mirror and see excessive belly fat staring back at them. Medical professionals refer to belly fat as visceral fat. It refers to excessive fat cells surrounding the organs in a person's abdomen, such as the liver.
Aside from harming our figures, belly fat raises a person's risk of cancer, type 2 diabetes, and heart disease.
Where does the belly fat come from?
The main culprit is eating too much sugar. High-sugar foods and beverages, especially those that contain high-fructose corn syrup, lead to fat around our bellies. Cakes, cookies, sweet drinks, and even food that is meant to be healthy could contain high sugar levels.
Inactivity also contributes to gaining belly fat. A sedentary lifestyle can lead to numerous health problems, including excessive fat cells in the abdomen. A 2018 study determined that sedentary behaviors have distinct associations with fat disposition.
Other lifestyle factors that contribute to unwanted belly fat include:
Smoking
Binge drinking
Low-protein diets
Stress
Inadequate sleep
Genetics also plays a role in body fat content. For women, many experience unwanted weight gain around their bellies during menopause.
Ways to Melt Belly Fat Fast
So now that you know what's causing your unwanted belly fat, how can you melt the fat away? Dieting and exercising are the keys to a healthy lifestyle and weight, and are the only treatment for the fat around your organs, or visceral fat. Sometimes, it just isn't enough. That's why non-surgical body sculpting is becoming a widely-sought-after alternative. It has become the #1 FDA-cleared, safe and effective, non-surgical way to eliminate fat!
We've outlined five amazing treatments that can help you get rid of your unwanted belly fat.
1. CoolSculpting
CoolSculpting freezes away your fat; if you can squeeze it, we can squeeze it! The treatment is designed to target stubborn fat in specific regions of the body. Once the fat is frozen, the fat cells naturally die within 90-120 days.
CoolSculpting has proven successful in men and women looking to eliminate fat in their:
Chin
Arms
Buttocks
Inner and outer thighs
Stomach
Hips (love handles)
Above the knee
Around the bra line
For people looking for a fast and effective way to eliminate fat around their bellies, CoolSculpting is the way to go. Many people regularly hit the gym and maintain nutritious diets, but the belly fat still won't disappear. CoolSculpting is that extra push to permanently destroy fat cells for good. And once they are gone, they don't come back.
CoolSculpting is a safe and FDA-approved treatment. It's non-invasive, which means there is no surgery or scarring involved. Best of all, CoolSculpting requires no downtime, at all! You can return back to your normal life right after you have finished your session.
How does it work? The CoolSculpting® applicator will freeze your stubborn fat cells to around -11C to -13C for a specific amount of time and permanently destroy them. Fat cells are much more intolerant of the cold than other cells in your body. No other cells, such as nerve, skin, or muscle cells are damaged during the procedure which allows the patient to stay comfortable. After the treatment ends, a 2-minute massage of the treated area will further damage those fat cells increasing the effectiveness by 68%. Once the fat cells are destroyed, they will take 2-4 months to flush out of your body, revealing your best body yet! The skin is not negatively compromised (no loose skin). The results are beautiful, lasting and so worth it.
You will appreciate your results for a lifetime (because they are permanent) so long as you maintain your healthy lifestyle. Not only will you feel the difference, especially in your clothes, but your before and after photos will show the difference. We guarantee it!
As CoolSculpting® has grown in popularity so has it's FDA-clearances for new body parts. Today we can treat even more areas of stubborn fat such as the double chin, upper arms, bra fat, back fat, male pecs or chest, love handles, abdomen, inner and outer thigh, banana roll (the roll of fat that sits just underneath the buttocks) and distal thighs (just above the knees). We pride ourselves in having the newest and most advanced applicators.
2. CoolToning
CoolToning is another non-invasive and safe way to eliminate unwanted belly fat. The treatment stimulates muscle contractions using high-frequency electromagnetic muscle stimulation technology. The energy pulses enhance collagen, connective tissue, and blood circulation.
As your muscles contract, they build strength and become firmer. Increasing blood flow and collagen production to the treated area, leading to firmer and tighter skin.
CoolToning is ideal for slimming down extra pounds around your waistline. It can also be applied to thighs, arms, and buttock.
Patients experience CoolTone results immediately. With proper diet and exercise, the results can be long-lasting. Patients are encouraged to have periodic CoolTone treatments over the years to help maintain their results.
ONE 30-MINUTE TREATMENT IS EQUIVALENT TO 20,000 SIT-UPS OR SQUATS! Imagine feeling strong and looking toned without spending countless extra hours in the gym. It is now possible with CoolTone® by CoolSculpting.® Allergan, the maker of CoolSculpting®, introduces the CoolTone® device, the latest innovation to it's body contouring portfolio.
CoolTone® utilizes Magnetic Muscle Stimulation to penetrate through the skin and fat layers to target only the muscle layer, inducing involuntary muscle contractions. The body's response to these contractions is to strengthen it's muscle fibers, resulting in improved muscle conditioning. It is completely non-invasive, non-surgical and there is no downtime. It is FDA-cleared for toning, firming and strengthening the muscles of the abdomen, buttocks, and thighs. After treatments, these areas are firmer and have a more defined and toned appearance.
The CoolTone® device has 50% more magnetic intensity than the leading competitor. The 30 minute treatment requires no recovery time and no special care. It is recommended to receive 4 initial treatments in a 2 week period. Visible results can normally be seen between 2 and 4 weeks after your first treatment. Our CoolTone® specialist will design a personalized plan that is affordable and convenient for you to maintain your results.
3. TruSculpt ID
TruSculpt uses radiofrequency technology to destroy fat cells. It literally melts away belly fat.
The TruSculpt device is wrapped around a patient like a belt. It uses radiofrequency to kill fat cells living under your skin without harming other areas of your body. A TruSculpt session lasts about 25 minutes.
Following a TruSculpt treatment, the patient's body naturally flushes away the dead fat cells. Patients can experience a 24% fat reduction in their treated area within six to twelve weeks.
The FDA has approved TruSculpt as a safe fat removal treatment for the upper abdomen, lower abdomen, and flanks (love handles).
TruSculpt doesn't require surgery, so patients can bounce back to their normal activities after their treatment session. Following TruSculpt, patients are encouraged to maintain a nutritious diet and keep up with regular exercise to maintain their TruSculpt results.
Bye-Bye, Belly!
Are you ready to wave goodbye to your unwanted belly fat? Not only can a fat reduction treatment make you feel better about your body image, but treatment reduces the number of harmful fat cells to help you live a healthier life.
If you're ready to melt belly fat fast, get in touch with our professional cosmetic team. We'll discuss your goals and determine the best treatment for your body.
Are you ready to wave goodbye to your
unwanted belly fat?
Our experienced practitioners work with you to decide on the best treatment options.
Book Appointment